Recently I met with a potential author to discuss the possibilities available to her. When we sat down, with one of my authors who was introducing us, I fully expected to be able to assist her in some way. But as the conversation developed, it was clear that she already had a substantial product line and really needed to focus on getting that out there instead.
It took a bit of convincing, and she was a bit put-off when I handed her back her sample manuscript and told her to table this for a later discussion. That's when I had a 'light bulb' moment!
What I saw is that with the Adult Coloring Book (ACB) phenomena in full swing, she needed to take her products and turn them into ACBs. At that time, I was unaware that others in the industry were thinking along those same lines.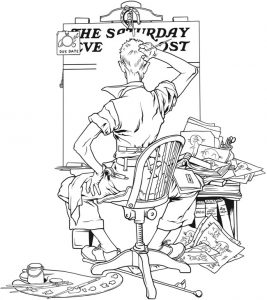 For example, did you know that Norman Rockwell images are available for you to purchase and color to your liking? Yes, even Rockwell's images have joined in on the ACB craze.
If you have products that fit this market, I highly suggest you open your mind to the possibility of this addition income stream. And, do it now, before it passes you by entirely.