---
~ S P E C I A L ~ F E A T U R E ~
Presentational Skills for
the Next Generation
an excerpt from the book
The Ultimate Guide for Public Speakers and those who want to be
by Ginger Marks
INTRODUCTION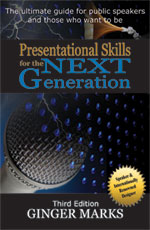 Ginger Marks is a business owner, publisher and author who has been in front of an audience since she was yet a child. With her latest book, Presentational Skills for the Next Generation, she offers her many years of experience in both design and delivery to assist others who want to hone their skills as public speakers.
Presentational Skills for the Next Generation, now in its third edition, is being called by professionals and leadership trainers "... a must read."
Much has changed over the years in the public speaking arena. We have so many new and challenging tools at our disposal that we are no longer consigned to countless hours to travel from city to city to share our knowledge.
The Internet has opened the doors to people from all places and races. At the click of a button, you can share your information in many forms of multi-media. With the availability of hosting online conferences and collaborations in both text-only and A/V environments, as are offered by Skype Conference™, Hot Conference™ and desktop sharing applications such as Yugma™, as well as teleconferences, the modes and means are so plentiful that more and more savvy business owners are venturing into the public speaking arena.
It is for you, the farsighted entrepreneur, that this book is written.
More information about Presentational Skills for the Next Generation -- and author Ginger Marks -- follows the excerpt.
---
Beginning the Design
by Ginger Marks
Now you can let the artist in you loose. Let your imagination soar. Write down everything that comes to mind. You will hone this list as your outline develops.
So how do you begin? What is an outline? Your outline contains those key points you want to make and supporting evidence to back them up. This evidence will be provided as charts and graphs, physical objects, or real-life stories. Whatever you use, be certain that it elaborates on your point and clarifies your position. Anything from facts and figures to statements from authority figures are viable tools for use in your presentations.
An authority figure is a broad concept. The best authority to quote is one with which your audience is familiar. For example, when speaking to a group of children you might quote a famous actor that they all know, like Barney. However, if your audience is older your choice might come from a noted author or even a person in politics. The point here is to use a person of note to the audience you are speaking. To quote someone that they may not know can still work for you, but if the authority figure is someone that the audience can relate to then the information will more readily be accepted as fact.
You may even find it useful to simply provide a definition of a word. Be sure that your definition is a direct quote from a leading dictionary or encyclopedia and not just your own interpretation.
Years ago, this limited us to sources like Encyclopedia Britannica, Merriam-Webster, and Random House College Dictionary. Today you will find a whole host of resources available to you. Some of the most frequently referenced online sources include but are not limited to
Bartleby
Wikipedia
Urban Dictionary
Another idea is to search quote listings online. Some of the sources I find helpful are
Woopidoo
Quotations Page
Leadership Now
The Quote Garden
You will find numerous subject headings to investigate from politicians to authors. Consider also the international, multi-cultural language quotes. Sometimes a quote stated in a foreign language can add a little pizzazz to an otherwise boring quote. You will find translation software quite helpful here. There is one word of warning however; online versions of translation software are choppy translations at best. If you have decided to use this tool, you may find it worth the cost to pay a service to translate the quote for you. This will lend credibility to your foreign quote. Be sure you know the proper pronunciation of the words. Not only will this make you more comfortable at the time of rendering the quote but any members of the audience who just happen to speak that language will not cringe and then discount or miss the whole rest of your presentation. Combining evidence can lend to both an effective argument and keep your listeners attention.
The most valuable tools to use are jokes and real-life stories. Whether humorous or heartfelt you will find that these tools will help break up the monotony of your presentation. You will find more on this subject later in this book. Go to the chapter on The Presentation to learn more.
Organize your thoughts so that they flow. The best presentations flow easily from one topic to the next. Try to stay on the path and guide your audience with clearly defined steps. Don't just haphazardly jump from point to point. Ordering your thoughts can be accomplished several ways. Try to choose the one that best fits your need. Among the options available to you are:
Topical
The discussion of a specific topic of importance
Lends to analysis and proof presentation
Often followed by Q&A
Chronological
The presentation of a series of events
Lends well to artistic presentations where the artist's works are followed from birth to death
Lends well to product development presentations
Classification
Also known as categorical
Can show relative value
Utilized to offer principles of significant difference
Provides a basis for clarification of issues
Problem/Solution
Present a problem and develop a logical solution
Quotable sources
Requires a clearly defined transition between the problem and the solution
Explain how the solution affects different parts of the problem or of the whole, as applicable
Cause/Effect
Present root cause and end result of a situation
Offer the remedy
Requires clearly defined transition between cause and effect
Lends well to environmental and governmental issues
As you can see each of these methods have their purpose. One is not better than the other for every seminar or workshop you do. Every presentation you give will have different needs. Pick one method and stick with it. Mixing these paths will only lead to confusion causing your audience to lose track of the point you are trying to make. Use one, and only one, method and transition from topic to topic smoothly so that your message will have a balanced flow. We will discuss transitions in more detail in the next chapter.
---
About the Author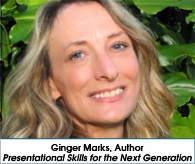 Ginger Marks, born in 1955, in Lansing, Michigan. She grew into a young adulthood under the guidance of her mother, Dawn Batterbee-Miller who was, at that time, an elementary school teacher and District Director of the Education Department of her local church. Ginger's public appearances included singing, playing the piano and readings. At the tender age of nine she made her first TV appearance as a soloist.
After several years as the owner of a multimillion dollar surgical facility Ginger's life was drastically altered. Her husband and business partner was taken from her suddenly and without warning. As she began to rebuild her life she employed her talent for presenting by becoming a licensed Financial Advisor with Waddell & Reed.
Eventually she remarried and because of her new husband's mother's physical condition she retired and began working from home. It was then that she founded DocUmeant which has since grown from a writing company to include DocUmeantDesigns, and DocUmeant Publishing.
Mrs Marks has been active in networking since the early 2000's, and has assisted in the development of many soloprenuers personal and business growth. She enjoys sharing her expertise in business through her books, ezine and articles. She has presented at workshops both online and offline.
Marks is the author of numerous eBooks, reports and books, including her annual Weird & Wacky Holiday Marketing Guide. Many of her articles are available at the web site, Ezine Articles.
Ginger is married to Philip, and they have no children. She has traveled extensively in Europe, and her personal interests include music, crafts, and literature.
---
About the Book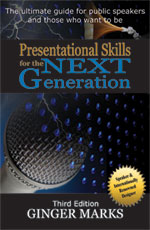 Presentational Skills for the Next Generation:
The ultimate guide for public speakers and those who want to be
by Ginger Marks
Published by DocUmeant Publishing


LCCN - 2011934331

ISBN: 978-0-9788831-4-0, 124 pages, Trade Paperback, $14.95
Available through this site or from your local bookstore.
http://www.GingerMarksBooks.com


"Presentational Skills for the Next Generation covers a wide range of topics that presenters need to know. Some of the topics, such as organizing the content and working with audio-visual technology are rarely covered. The author's emphasis on rehearsing and considering the audience first are very valuable. You'll also find excellent coverage on the delivery aspect of presenting, including how to dress, what equipment to pack, dealing with fear, and more. The Resources section at the end is very useful, too."

~Ellen Finkelstein - Presentation skills trainer and PowerPoint MVP
http://www.ellenfinkelstein.coms

"As a communication consultant and instructor of public speaking, I have taught hundreds of people how to prepare and deliver successful presentations. For anyone who has to give a presentation, I would definitely recommend Presentational Skills for the Next Generation by Ginger Marks. This easy-to-read book provides excellent ideas for putting together a polished presentation. Ginger's explanation on preparing and using visual aids to compliment your talk is especially well done. Ginger covers all-important areas of preparing an effective presentation from considering your audience and the location of your talk to your personal appearance and valuable delivery tips and techniques. This book is a great resource that you can refer to time-and-again for every presentation you'll ever do."

~Felicia J. Slattery, M.A., M.Ad.Ed., Communication Consultant, Speaker & Coach
http://www.CommunicationTransformation.com

"Ginger Marks has codified a very workable system of materials to help anyone who desires to be an improved presenter. The skills of presentation could be said to be an artful science and Ginger represents this concept very effectively in her latest work. Presentation Skills for the Next Generation is a very valuable must read."

~Joe Yazbeck, Founder-President
Prestige Leader Development
http://www.PrestigeLeader.com
---
©2011 Ginger Marks. All Rights Reserved. Excerpted from Presentational Skills for the Next Generation (July 2011, $14.95, Trade Paperback) by Ginger Marks by permission of DocUmeant Publishing.