---
~ S P E C I A L ~ F E A T U R E ~
Complete Library of
Enterpreneurial Wisdom
an excerpt from the book
The Ultimate Guide for Public Speakers and those who want to be
by Ginger Marks
INTRODUCTION
Ginger Marks is a business owner, publisher, designer, and author who has been in business for over thirty years. With her latest book, Complete Library of Enterpreneurial Wisdom, she offers her many years of experience in both business ownership and marketing to assist others who want to see their business thrive in all economies.
Complete Library of Enterpreneurial Wisdom, is being called by professionals and leadership trainers as "... a must read."
Much has changed over the years in the entrepreneurship arena. We have so many new and challenging tools at our disposal that we are no longer limited to our local markets.
The Internet has opened the doors to people from all places and races. At the click of a button, you can share your business with buyers who you would never have thought it possible just a few years ago.
It is for you, the farsighted entrepreneur, that this book is written.
More information about Complete Library of Enterpreneurial Wisdom-- and author Ginger Marks -- follows the excerpt.
---
Ten Stages of Success
by Ginger Marks
When you first decide to take up the mantle of business owner usually you are filled with excitement. In this stage we eagerly seek opportunities to tell everyone we come in contact with about our new business. We often begin by telling them about all the wonderful products/services we have to offer and then if they seem even remotely interested we might even tell them how they too could join our team. This is what we'll call the Excitement Stage.
However, as the excitement dies down we soon come to realize the importance of putting together a business and marketing plan. This is a simple stage to complete so don't fret. Most importantly this sets the groundwork for your plan of action that will ensure your business' success. To accomplish this Planning Stage all you need to do is sit down with a pen and paper and commit to writing what you want to accomplish and how you are going to go about getting it.
As an example let's say you want to have four new clients/customers each month for the next twelve months. Next you list the details of how you will accomplish this. Realize that in order to obtain four new clients each month you will need to share your business with at least four times that number of people. Remembering that old saying, "Some will, some won't, so what!" will help to get you past the nos that are sure to come.
Once you have a solid business and marketing plan in place, follow-through. Mary Kay offers this one extra piece of advice that all business owners need to embrace. That is the habit of repeating the saying, "Why not me and why not now? It's my turn and my time to succeed." Adopt this saying as your own.
Only your lack of action will stand in the way of your success. Venturing into unknown territory is the scariest part of new entrepreneurship, but once you take that first step you will find the second step comes that much easier. In order to implement your business plan you must take action. Therefore, Initial Action is the third stage. Whether that means you must pick up the phone, go out and physically talk to others, or even network online you must accept the fact that it is up to you and you alone to take the action to make your business succeed.
Now that the initial action has been taken your business is on the move. The next phase that we all go through is the Question Stage. What was I thinking? Did I do the right thing? Questioning your ability to make it work is a normal reaction at this point. This occurs when we begin to listen to others and lose sight of our dream and our goal. You make several phone calls and don't make any headway or have a conversation with someone that puts doubt in your mind and you begin to doubt your capability. If you refocus on the positives you have accomplished instead of the negativity that is plaguing your mind you will bounce back quickly from this stage.
Visualization is the next important stage. See yourself in that brand new car or home. Picture yourself on vacation in some exotic locale. When you take the time to give form and voice to your goals you implant the seed of that success in your very being. This is why so many companies realize the value of creating dream boards. Focus on the prize and not the bumps in the road. Keep moving, keep dreaming, and keep doing.
Get your copy today and continue reading the rest of the article on this important entrepreneurial topic!
---
About the Author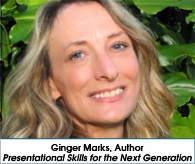 Ginger Marks, born in 1955, in Lansing, Michigan. She grew into a young adulthood under the guidance of her mother, Dawn Batterbee-Miller who was, at that time, an elementary school teacher and District Director of the Education Department of her local church. Ginger's public appearances included singing, playing the piano and readings. At the tender age of nine she made her first TV appearance as a soloist.
After several years as the owner of a multimillion dollar surgical facility Ginger's life was drastically altered. Her husband and business partner was taken from her suddenly and without warning. As she began to rebuild her life she employed her talent for presenting by becoming a licensed Financial Advisor with Waddell & Reed.
Eventually she remarried and because of her new husband's mother's physical condition she retired and began working from home. It was then that she founded DocUmeant which has since grown from a writing company to include DocUmeantDesigns, and DocUmeant Publishing.
Mrs Marks has been active in networking since the early 2000's, and has assisted in the development of many soloprenuers personal and business growth. She enjoys sharing her expertise in business through her books, ezine and articles. She has presented at workshops both online and offline.
Marks is the author of numerous eBooks, reports and books, including her annual Weird & Wacky Holiday Marketing Guide. Many of her articles are available at the web site, Ezine Articles.
Ginger is married to Philip, and they have no children. She has traveled extensively in Europe, and her personal interests include music, crafts, and literature.
---
About the Book
Complete Library of Entrepreneurial Wisdom:
Business and Personal Growth
by Ginger Marks
Published by DocUmeant Publishing


ISBN: 978-1-937801-38-0, 382 pages, Hardcover, $29.95
Available through this site or from your local bookstore.
http://www.GingerMarksBooks.com


"If you can only choose one business book to read this year, THIS is the winner. Ginger Marks has pulled together a fantastic, comprehensive, all-encompassing guide on everything from success in business to marketing, design, writing and so much more. Easy-to-read and smart ideas help you take action on what you need to in order to run a successful business from home. Highly recommended!"

~Felicia J. Slattery, M.A., M.Ad.Ed., bestselling author of 21 Ways to Make Money Speaking and Kill the Elevator Speech: Stop Selling. Start Connecting, SignatureSpeechSecrets.com

"Most of the time when we see something that claims to be a 'complete' whatever, we figure it is an overstatement. However, that is not the case with the Complete Library of Entrepreneurial Wisdom. This book covers business basics, including how to and how not to start your business; marketing; marketing design, which is a topic rarely covered; writing, which covers technical, practical, as well as, marketing aspects to writing; and life reflections, such as planning for emergencies and disasters—both natural and man-made.

There is so much information packed into this book that it could well be the only book on core business issues that you will ever need."

~Connie Dunn, Publish with Connie, publishwithconnie.com

"In the Complete Library of Entrepreneurship Wisdom Ginger Marks has put together an impressive and inspiring collection of 'articles for entrepreneurs'. With over 150, power-packed, articles to choose from, the busy entrepreneur has at their fingertips, bite-sized training lessons to help them on their success journey. This book is attractively laid out and one that I will keep by my bedside as part of my nightly, motivational, food for thought, reading. Highly recommended!"

~D'vorah Lansky, M.Ed., bestselling author of 21 Ways to Launch a Successful Virtual Book Tour, VirtualBookTour21Ways.com

"Ginger Marks latest book is a virtual treasure trove of helpful information for any budding or seasoned entrepreneur. Want your business to be successful faster, easier and with less headaches? Get your copy of the Complete Library of Entrepreneurial Wisdom and become the smart, savvy successful business owner you always wanted to be. You can do it – and Ginger is there to help."

Denise Michaels, International Book Writing Guild, Author, Testosterone-Free Marketing a Business Bestseller sold in 15 Countries
---
©2013 Ginger Marks. All Rights Reserved. Excerpted from Complete Library of Entrepreneurial Wisdom (June 2013, $29.95, Hardcover) by Ginger Marks by permission of DocUmeant Publishing.