Not Just Busy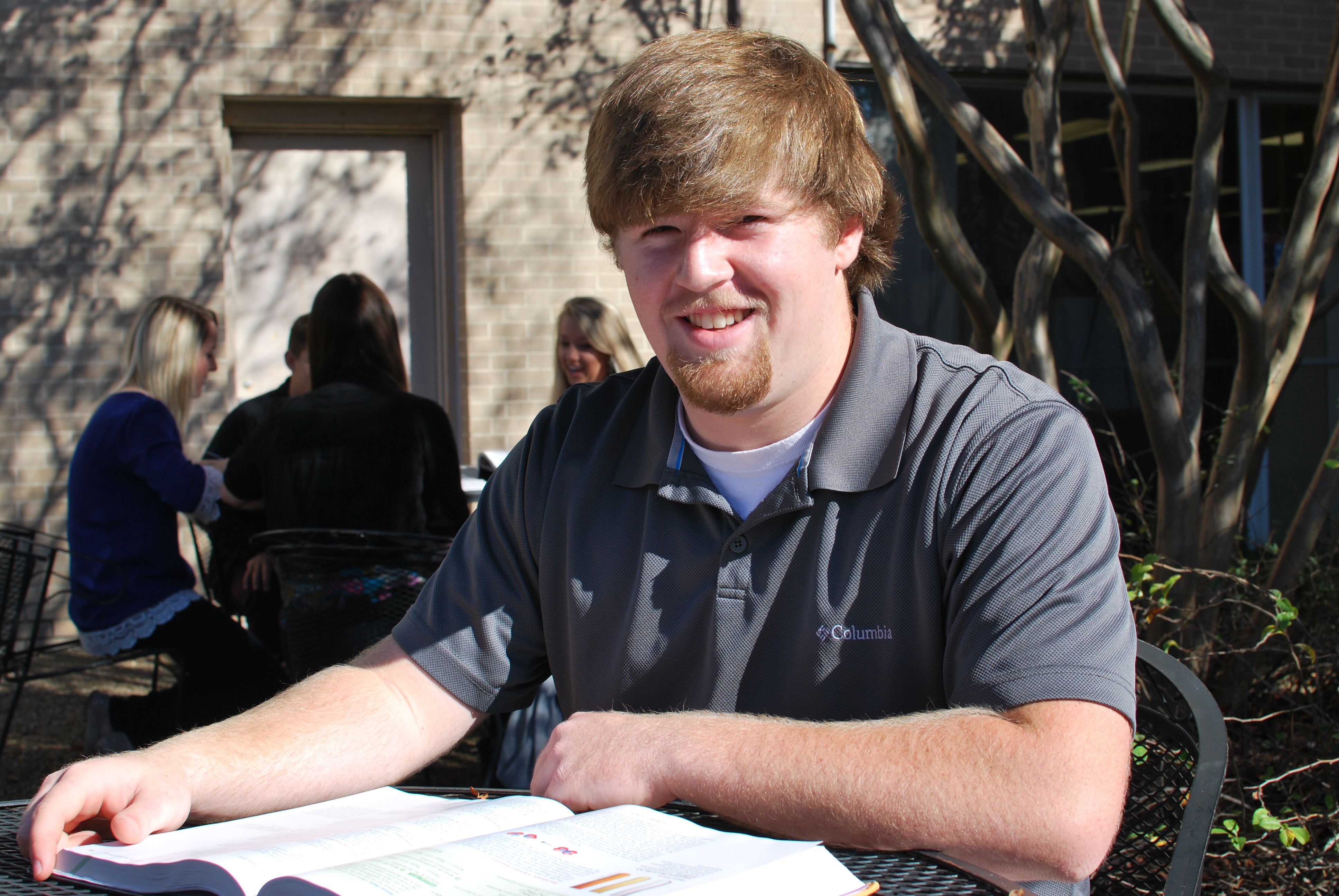 As of late, I have been signing up for coursework that will significantly impact both my book sales and my author's book sales. I totally feel like a student again with a full courseload! The three courses I am taking currently were all found through the wonderful Daniel Hall's free webinars. Yes, he also gives a ton of information away just on those webinars, but he only connects with the best of the best. AND, I have learned that he also has a Podcast which, if you aren't subscribed to, you are missing a ton of valuable information no matter your career choice.
Here's what courses I am currently taking that you might also want to check into.
1. 1001 Ways Master Class offered by John Kremer
2. Real Fast Indie Book Marketing offered by Amy Collins
3. Best-Seller Ranking Pro offered by Tom Corson-Knowles
As you can tell by the titles of the courses, they have a lot to offer for those of us whom are trying to significantly impact our bottom line and have books that people need. I look forward to sharing more as I continue to expand my knowledge and expertice in these areas. Sure I have a Marketing VP that does all this work for me and my authors, but that doesn't mean I don't want to personally continue to grow my knowledge on this side of the book publishing business.
Starting Fresh in 2017
As I begin this new year I have decided it is high time for me to start taking my own advice. So, in 2017 I will be posting at least weekly on the Book Shepard Blog and keep this website updated as well with news about what I am up to.
That being the case, let me share what I have been up to since my last posting here.
In 2016 I hit the ground running, with Chris Gibson's assistance (He's my Marketing VP over at DocUmeantPublishing.com.) reaching #1 Best-Seller with the Award Winning Annual Marketing Series, the Weird & Wacky Holiday Marketing Guide, as you can read below. Following on that success, it won the FAPA Presidents Award along with one of my authors, Bob Ieva, for his book, The Other Brooklyn.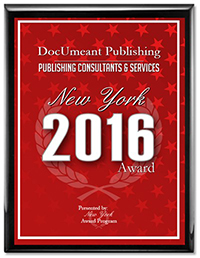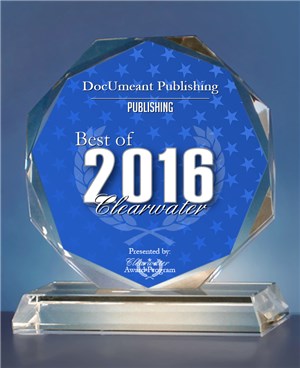 During the year I was awarded the Publishing Consultants & Services Award in New York City & Best of Clearwater. On top of those achievements in the field of publishing I also received Design Firm of the Year award in my hometown of Clearwater for a second year in a row. Because of that achievement I was named to the Business Hall of Fame. And then later in the year I was among the class of '16 Golden Mouse Award winners, this time as the Publishing Leader of the Year.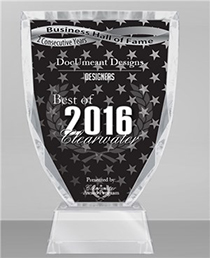 As I continue to reach levels of success I never dreamed possible, I have kept up with my training and growth in the marketing, publishing, and design areas so as to add to my skill set and offer my authors, business clients, and you the best and most relevent information, products, and services available.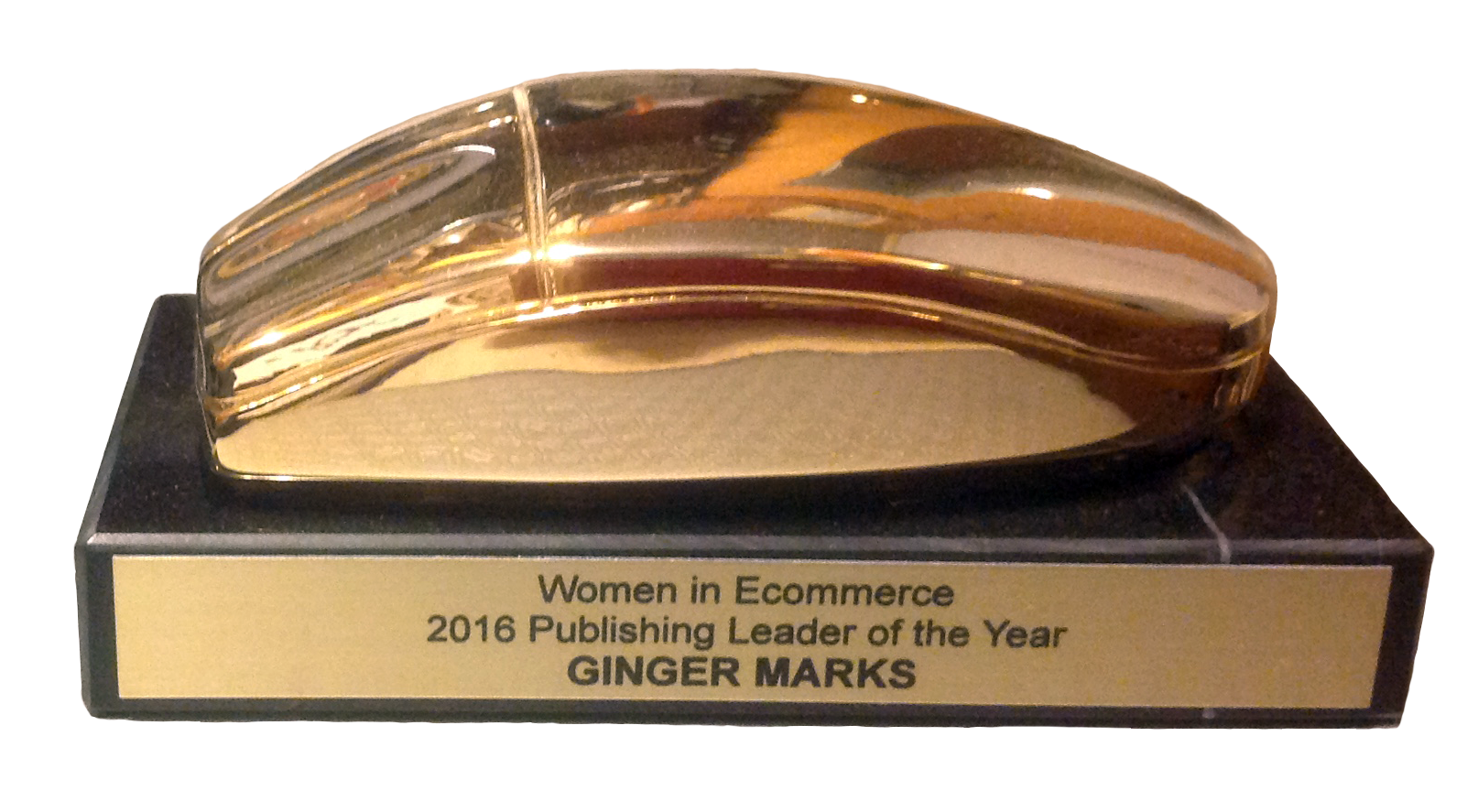 If you wish to stay connected with me, be sure to sign up for the monthly ezine Words of Wisdom, which you see to right in the sidebar. Also, to make it easy for you, I have connected my blog to Amazon Kindle to offer you the opportunity to subscribe and be able to read off-line directly on your iPhone or iPad when I update it with fresh content. That brings me to the reason why I have changed the focus of the blog from speaking and presentation advice to rename it Book Shepard. While I will definitely bring book related content to you, I will also be offering design and marketing advice that business owners will also find useful.
So, welcome to a new year and a fresh committment to you!
2016 Weird & Wacky Reaches #1 in Marketing Category on Amazon!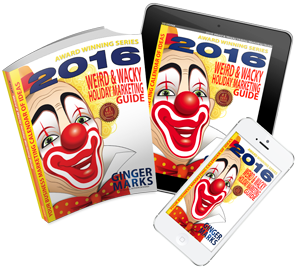 The Weird & Wacky Holiday Marketing Guide has become the hot tool to market your business every year since 2009 when it debuted. Earing the FAPA (Florida Author & Publishers) President's Award in Business Category in 2015 & 2016 and holding steady at #2 in Amazon Marketing Category,#1 Best-Seller Status for the 2016 edition has been awarded in this coveted spot! Thank you all for your help and support in reching this highly prized status!
Be sure to share the good new with everyone you touch who could benefit from owning this fabulous tool. Become an Affilite and earn 50% royalty on every book sold when you share this marketing gold winner!
Weird & Wacky Holiday Marketing Guide Becomes a Bestseller Again!
Every year, since 2009, the Weird & Wacky Holiday Marketing Guide has been your go-to source for planning your business marketing around unusual holidays. Again this year, the seventh edition of this weird & wacky calendar of business marketing ideas reaches bestseller status on Amazon's Kindle marketplace.
Brian Jud, author of How to Make Real Money Selling Books (without worrying about returns) has this to say about this Amazon Marketing Bestseller, "The best way to create buzz and word-of-mouth advertising is to tie your book in to a special marketing period or holiday. This book will give you the edge on your competition, get you more time on the air, help you sell more books—and you will have more fun doing it."
To put the FUN back into your business' marketing plan all you need is to visit Ginger Marks' Holiday Marketing Guide home, look for it on Amazon or ask for it at your local bookstore! Take the boring business marketing plan and toss it aside. Replace it with a marketing plan that will get folks talking with the 2015 Weird & Wacky Holiday Marketing Guide: Your business calendar of holiday marketing ideas.
30+ year Local Veteran Business Owner / Author partners with PNC Bank
September 21, 2014 in Arts, Culture, Entertainment, Meetings, Events, Marketing, Public Relations, Media, Communications, Books
30+ year Local Veteran Business Owner / Author partners with PNC Bank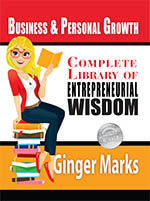 Local author and publisher, Ginger Marks, partners with Clearwater's PNC Bank to provide insight and advice for prospective, new, and experienced business owners. Ginger will be available to chat and sign copies of her award winning book, Complete Library of Entrepreneurial Wisdom, and PNC Financial experts will be on hand to field your questions and educate you on business financial matters.
Mrs Marks has spent 30+ years in the Tampa Bay area honing her skill as an entrepreneur. Having owned and operated multiple businesses, including a restaurant and a multimillion dollar surgical clinic, she knows her way around business and how to operate one successfully.
Mrs Marks states, "Owning a business takes many talents and the determination to succeed. In the course of my business operations I have experienced both the ups and the downs of the financial market. Without the knowledge of how to structure your finances to support your dreams you endanger your success. This is why I have partnered with PNC with the release of this important work."
Event date and location: October 9, 2014 between 5:30 and 6:30 pm at 2498 Gulf-to-Bay Blvd. Books available at your local bookstore and at this event.
See more at: http://www.tampabaynewswire.com/2014/09/21/30-year-local-veteran-business-owner-author-partners-with-pnc-bank-27875#sthash.apQKIy3N.dpuf
Complete Library of Entrepreneurial Wisdom now sports a FAPA Presidents Award!
At the fall conference in Pompano Beach, Florida all eyes were on Ginger Marks as she accepted her Presidents Award medal for her latest work, Complete Library of Entrepreneurial Wisdom.
Ginger Marks DocUmeant Publishing & Designs Founder and CEO, Presenting at FAPA Fall Conference


In this session, Ginger Marks will demonstrate the differences between non-professional and professional book design. She will cover the basics of proper formatting for each of the different types of layout including all three major digital layouts. Each attendee will come away with a resources list for obtaining photo images and recognize the importance of properly attained permissions for their use. As we explore book layout and cover design we will uncover the nuances of attractive design, how to determine what type of cover design to use to best showcase and market their book, and the effective use of the back cover as a marketing tool.
At the end of this session and when applying what was learned, you will be able to:
Correctly format for each layout type.
Identify resources for cover photos.
Recognize the difference between an effective, attractive book and its counterpart.
Mark your calendars for:
Friday August 8th, either of three Friday workshops: Children's Book, Fiction Writing, or Non-Fiction Educational Sessions.
Saturday, August 9th, FAPA Fall Conference
Saturday evening, August 9th, 2014 FAPA President's Awards Banquet.  
Date:  August 8th and 9th, 2014!
Program Location: Fort Lauderdale Marriott Pompano Beach Resort & Spa
1200 N. Ocean Blvd., Pompano Beach, FL 33062  •  
(954) 782-0100
Florida Authors and Publishers Association annual Fall Conference is coming. We offer two exciting days of conferences and professional development sessions designed to provide authors and self-publishers with the tools they need to SUCCEED AND MAKE MONEY!  Register Now!
Newest Release
Now available in Kindle, Nook, PDF, and Smashwords formats. As well as hardcover and paperback!
Complete Library of Entrepreneurial Wisdom Trailer by Misty Taggart, Trailer to the Stars.
Now available at a bookstore near you in print and digital.
Presentational Skills for the Next Generation
Ginger Marks' third edition work is newly revised to include the latest software improvements and a resource section that has been requested by you, Ginger's fans and readers.
Brought to you by Ginger Marks at Ginger.Marks@DocUmeantDesigns.com where our tagline is our pledge to you, "We Make YOU Look GOOD!"
About Ginger Marks
Ginger Marks is a seasoned professional. With over thirty years as a business owner her expertise is widely known and she is a highly respected graphic designer. After publishing her first book she realized there had to be a better way. This is why she founded DocUmeant Publishing (http://www.DocUmeantPublishing.com).
Now with nearly ten years in the publishing and design business Ginger has written many articles, reports, books, and eBooks. Her works have been been published in newspapers, magazines, ezines, and numerious online websites.
For a more robust information please visit her Press Room.